Published by Pro Wire Team on 12th May 2020
This week, we're excited to announce that Pro Wire and Cable is the exclusive online retailer for a new and innovative product: Duckt-Strip® Mini-Split Cable.
Duckt-Strip is specifically designed to meet the needs of HVAC installers for making quick, easy and safe connections between the outdoor condensing unit and indoor unit of ductless mini-split A/C or heat pump systems.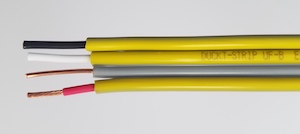 Unlike PVC-coated armored cable or traditional UF (underground feeder) cable, which are difficult and dangerous to expose and separate their conductors, Duckt-Strip's patented Rip-N-Strip technology makes it the easiest way to strip mini-split cable, no blade required!
Craig Joyce, "a third generation wire guy," invented Duckt-Strip after struggling with hundreds of installs himself, and seeing just how injury-prone the process was. Not only is Duckt-Strip significantly faster and safer to install, it is the preferred choice of electrical inspectors because it already meets code requirements with it's all-in-one construction.
Construction
Each cable is comprised of 3 stranded copper conductors (either 14 AWG or 16 AWG), and one solid copper ground wire (also 14 AWG or 16 AWG). The conductors are insulated with red, white or black THHN. The outer jackets are gray and yellow sunlight-resistant, outdoor-rated, direct burial approved PVC with grooves between each cable for easy separation and stripping.
Because Duckt-Strip can be easily bent by hand, it slides right into the mini-split connectors that are included in the 50ft Contractor Pack or sold separately in pairs-- one for inside and one for outside.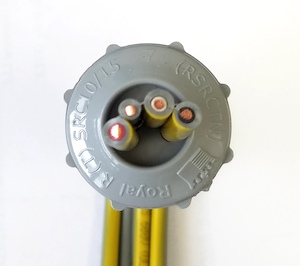 Standards
Duckt-Strip® meets all standards & compliances for a ductless mini-split installation and is UL approved for in-the-wall and through-the-wall use.
UL Standard 2988

Universal Hybrid Power and Signal Cable
UL Designation YEFX for Best Cabling Practices
NEC reference "units in this cable are jacketed cables described in Chapter 3 or Article 400"

UL Standard 493

Underground Feeder UF-8
UL Designation YDUX for Best Cabling Practices
NEC Reference Article 340 and 340-10, single or multi-conductor cable

ASTM-B3 and ASTM-B8
Federal Specification A-A-59544
US Government "Buy American" compliance provisions of ARRA 2009; Section 1605
Product Selection
We offer six Duckt-Strip product options:
Here's a short video demonstrating just how easy, safe and fast it is to work with Duckt-Strip cable.
Let us know if you have any questions or would like to request a free sample. Duckt-Strip mini-split cable is one of the best new innovations for installers in years, and we're excited to offer it here at Pro Wire and Cable.